How Retailers Can Win The Holiday Season By Truly Going Customer-First
As a retailer, the holiday season should be a cheery time of the year where stores would be packed and products flying off the shelves.
However, the current pandemic has changed customer behavior forever, rendering the time-tested marketing strategies of retailers to become increasingly obsolete.
How do you compete in an environment where margins are razor-thin and customers are notoriously fickle?
The solution lies in genuinely understanding what your customers desire, engaging them directly one-on-one, and influencing their decisions to drive what really matters — sales.
The First Step Is To Analyze Your Customer Data
How well do you really know your customers?
While many retailers can easily cite the customer demographics and the products or services that contribute the most revenue, knowing the exact preferences of your shoppers is essential.
Starbucks, for example, utilizes the data collected from their rewards program and mobile app to understand the purchasing habits of their millions of users. The rewards themselves, represent over 36% of US company-operated sales in 2017.
The data intelligence gathered allowed them to better personalize the Starbucks experience for their mobile app users, suggesting highly relevant products and new offerings that each customer might be uniquely interested in.
Through your point-of-sale (POS) system and loyalty programs, you can also start to build preferential data points around customers, segment them into distinct personas and let your customer engagement campaigns deliver a personalized treatment.
This allows you to recommend the right types of products they might be interested in instead of simply broadcasting a message that might reach everyone but pleases no one.
Engaging Your Customers Where They Are, Is A Must
When was the last time you made a conscious effort to go window shopping around a mall, hoping to spot the latest and most fantastic deals?
Sure, the Christmas trees on display in the mall might attract shoppers, but it is undeniable that retail store footfall has been steadily decreasing globally, and the pandemic has all but slowed it down to a trickle.
Online shopping & the digital floor space has taken over.
Most shoppers today live on their smartphones, and retailers will need to capitalize on this by engaging with them where they spend much of their attention.
Through targeted campaigns with highly personalized offers, brands will be able to actively engage their prospects to increase foot traffic to their physical stores or digital storefronts.


The Perx Loyalty and Engagement Platform allows retailers to target the right audience and hyper-personalize how your brand engages with your customer to influence the shopping cart naturally.
Imagine, your customer getting a digital scratch and win card just before Christmas that entitles him or her to claim their favorite drink from your cafe. The experience is unique, it is gamified and it is instantly gratifying.
It is how one retail chain in the Philippines managed to achieve a 700% increase in customer engagement on their loyalty program and how Thailand's largest mall operator experienced a double-digit rise in footfall and revenue.
Solving Cart Abandonment Is Mission-Critical
Customers today enjoy an abundance of options; you are not the only retailer in town with a unique brand or quality products.
All too often, this leads to shopping cart abandonment that spikes to an all-time high, especially during the holiday season, where customers are being blasted with a continuous stream of offers and promotions.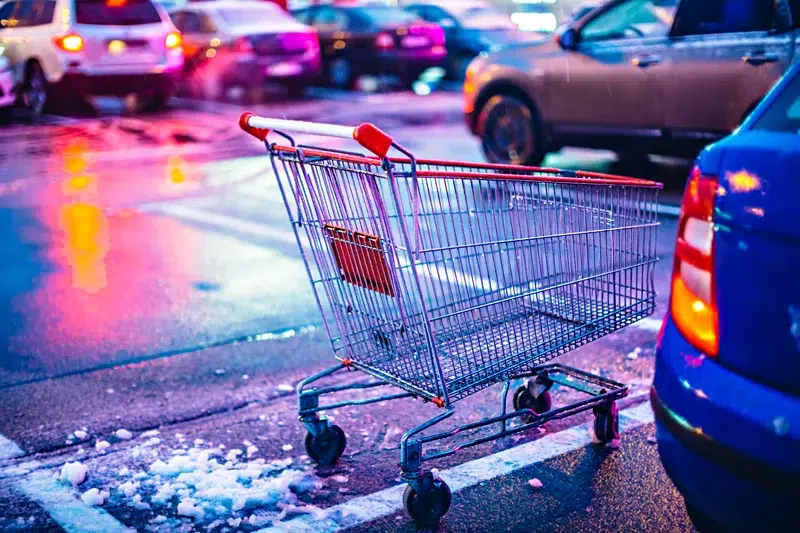 In fact, a 2019 research has found that the average shopping cart abandonment rate is an astounding 69.57%.
From a long checkout process to the allure of comparison shopping and the lack of additional last-minute discounts, many factors could suddenly spur a prospective customer to abandon their purchase.
While it is impossible to eliminate cart abandonment fully, you will have to go beyond just optimizing the checkout process and removing roadblocks to a swift conversion. The key is to engage your customers both on-site before they leave and off-site should they exit your checkout page.
By analyzing your customer data and engaging them during the checkout process, you will be able to trigger excitement and influence your prospect towards the sale.
A first-time customer at your checkout page? Let them spin the wheel to win an additional 10% off their first purchase.
A loyal customer about to checkout? Let them shake a virtual tree and reward them with a sweet discount on their next purchase in the same shopping session!
A prospect that left the shopping session prematurely? Engage them through your store's app with a reminder tied with gamified rewarding experience.
By sprinkling dynamic engagements within a single shopping experience, you will increase your brand touchpoints in an authentic way that influences their decision to purchase by incentivizing it.
This will allow you to reduce your cart abandonment rate and upsize the shopping carts to drive even more revenue per customer and increase the share of wallet.
Fight Against Lowered Margins With Hyper-personalized Offers
As a retailer, you know the drill when it comes to holiday promotions.
1-for-1 deals, 30% off store-wide and flash sales are classic promotional strategies retailers use to drive revenue and stand out amidst the fierce competition.
Sure, these deep discounts are great for your customers but a nightmare to your margins! Furthermore, relying on the loss-leader strategy is not always sustainable and does not guarantee additional purchases once you grab your customers' attention.
What is more powerful (and profitable) is to hyper-personalize your offers and engagements to the right audience at the right time.
Amazon, for example, uses its customer purchase history and buying behavior to recommend the right promotions and products that matter to the buyer instead of a blanket discount.
You can do the same, too, by leveraging your customer data and sending personalized offers just as the holiday season begins!
A terrific way to gamify and personalize such an experience is a 12-days of Christmas scratchable calendar that can be integrated with your customer loyalty programs.
This allows customers to wake up and anticipate a new 'present,' which could be a targeted promotional product or a gift that they love, throughout the Christmas period.
Instead of just slashing prices store-wide, retailers should aim to gamify and personalize their customers' shopping experience to increase their brand touchpoints while preserving their margins naturally.
Place Your Customer & Their Experience First This Holiday Season
Discounts and promotions alone do not win the day; prioritizing your customer experience and their needs do.
By leveraging your customer data and crafting interactive experiences that blend well with their lifestyle, you will be able to create unique brand touchpoints that go beyond just mere suggestions and indeed influence their purchasing decisions.
Ready to transform the way you engage with your customers this holiday season?
Learn more about the Perx Loyalty and Engagement Platform and how we have helped brands elevate their customer engagement strategies, transforming them from just another brand into an influencer in their customers' lives.
Get in touch for a tailored demo and discover how you can influence and drive customer actions today.